| | |
| --- | --- |
| Officers | Governing Board |
| Larry Heard - President | Frances Ashcraft |
| Larry Bush - Vice President | Walter Creighton (Show Chairman) |
| Jim Dwyer - Secretary | Lyman Holland |
| Martha Terry - Treasurer | Bill Rawls |
| . | Jim Smelley |
| | Jimmy Walker |
Come join us for our 74 th year.


Click To See A Letter From Our President
---
March Meeting
This year's record cold has delayed many of our camellia blooms.

The weather has started to moderate and there is beginning to be a profusion of blooms.

To celebrate the upsurge of camellia blooms, the Camellia Club of Mobile will feature a camellia display of member camellia blossoms at the March meeting.

Members are asked to bring camellia blooms to show to others.

Let's make this a stunning display of member blooms.

Everyone can see what other members are growing.

You might want to go by the post office and get a bubble mailer to give to a member who brought a bloom from a plant that you would like to graft.

Have the post office tell you how many stamps you would need and then if you see something you like, you can address the mailer, stamp it, and give it to the person who brought the bloom.
---
74th Annual Show 1940-2014
Saturday January 18, 2014 - 2 p.m. to 7 p.m.
Sunday January 19, 2014 - noon to 4 p.m.
Click for a Show Poster: CAMELLIA SHOW POSTER 1.pdf
| | |
| --- | --- |
| SHOW CHAIRMAN WALTER CREIGHTON DISCUSSES JANUARY SHOW | |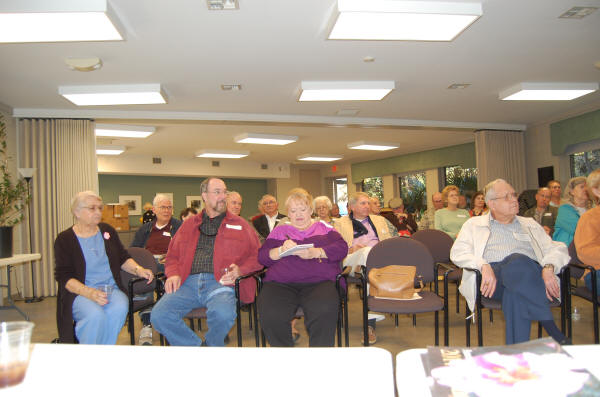 CLUB MEMBERS RECEIVE INSTRUCTION FOR JANUARY SHOW
---
73rd Annual Camellia Show January 19 and 20
Meet new friends, learn about camellias, and attend our interesting programs and activities.

The January 2013 Camellia Show
A Spectacular Show
---
In Memoriam: Elaine Smelley
It is with great sadness that we report that our dear friend and Club member Elaine Smelley passed away on January 19th after a mercifully short illness. Elaine and her beloved husband Jim have been justly well-known in the camellia world for many, many years. She was a member of many camellia clubs and societies, but chose to call the Camellia Club of Mobile her "home" club. The past forty years or more have seen one or the other of the Smelleys serving as a member of our Club's Board. Elaine knew so much about camellias and running a camellia Club, and would always share her experience and advice if asked. I know during my two years as President of the Club, Elaine was invaluable in letting me know what ideas had been tried before (and maybe failed!) plus what made the Club's Shows run so smoothly.
Elaine regularly gave a slide show presentation for old and new members at our meetings, always with lots of information on the old, new and as yet un-named varieties that she showed us. The Club's trips to the Smelleys' greenhouses in Agricola, Mississippi, were a great treat that was always well attended. One of the loveliest camellias registered in recent years is, of course, "Elaine's Betty" a superbly gorgeous sport of "Betty Sheffield" developed by Jim and Elaine. It was honored with the cover of the 1999 Camellia Nomenclature book.
Elaine' strength and dedication to our Club was demonstrated in her last few weeks when she was determined that the Show Judges she had organized for so many years would continue undeterred by her illness. It was a very sad moment when the news reached us at the Camellia Show that Elaine had passed at almost the very moment the judging was completed.
The loss of this delightful generous lady has left a hole in the heart of our Club and in the heart of the camellia world. Elaine's visitation and service were attended by camellia friends from at least five different states, with loving eulogies offered by Randolph Maphis of the Camellia & Garden Club of Tallahassee and by Col. Dick Hooten of the Pensacola Camellia Club. Our love and sincere sympathy goes out to Jim Smelley on the loss of Elaine, who was truly (to use an old-fashioned but most appropriate word ) a gentlewoman. The Club has made a donation to the American Camellia Society in her memory, as have several of our Club members.
Jim and Elaine Smelley when Elaine won a
shower set at a Camellia Club of Mobile raffle.
---
---
Contact Webmaster: jdwyer@gulftel.com
Page last modified 04/18/2014